Introduction
If you are practising for the first time, please wear loose fitting athletic clothing, you can also purchase appropriate clothing and protective equipment such as a mouth guard or you can bring your own.
Every new member must pay an initial joining fee which also includes one year of full insurance and membership, our membership fee is £25 per member per annum, this fee is payable every 12 months.
Membership
Package
Details
Pricing
Combat Fitness
One Class Per Week
£30 pcm by direct debit + £25 joining fee
Combat Fitness (for existing members)
One Class per week
£20.00 pcm by direct debit
£120 for ten class pass
We also give a 10% discount to all full-time serving military, fire and police officers.
Combat Fitness
You can join our Combat Fitness classes, which are explained below, we currently run mixed ability classes for men and women, our classes are for adults and children (12 years and older) only, all our instructors are happy to teach you regardless of your current levels of fitness, we will help you achieve your personal goals for fitness, weight-loss or simply improved health and lifestyle.
Our men and women's Combat Fitness Class is running Sundays evenings 5.30-7.000pm. Your first class is FREE.
You will be taught by our expert coach Sunil Rai, Sunil is well versed in the art of Muay Thai, MMA and Karate & Kickboxing. He is passionate about helping you achieve your health and fitness goals and he can "scale" the workouts to suit your current levels of fitness or bodytype.
Combat Fitness incorporates bodyweight exercises, calisthenics, cardio-training, stretching and interval and circuit training with an intensive and varied format so the workouts will never be boring or routine. Combat Fitness incorporates movement principles and drills from Muay Thai (Thai Boxing), Judo, MMA (Mixed Martial Arts), BJJ (Brazilian Jiu Jitsu), Karate and Kickboxing. Each class is designed to develop mobility and flexibility, body movement skills, cardiovascular and metabolic conditioning, and each class includes a warm-up and warm-down section. Please note there are no forms of sparring or impact striking involved, so the class is centred strength and conditioning and fitness. If you are interested in being part of a fun community and improving your fitness or losing weight then Combat Fitness will be perfect for you.
SO WHAT DO I NEED TO DO?
If you wish to join the Combat Fitness class or learn more about Maidenhead Martial Arts, please contact us beforehand by email mmamaidenhead@gmail.com, please note if you just turn-up for a class we may not be able to process your paperwork and insurance in time, so it is best to contact us first. All classes will start promptly at the prescribed time.
The class consists of a warm up, main conditioning program and then warm-down. You can also bring a water bottle and your training apparel!
Please be aware after your first free trial class, entry into our martial arts classes including Combat Fitness can only be granted after completing a direct debit form or paying for a 10 class pass, a contract and payment of the standard joining fee. Please note if you are on direct debit, after you have completed a full calendar month of training you can cancel with 7 days notice at any time.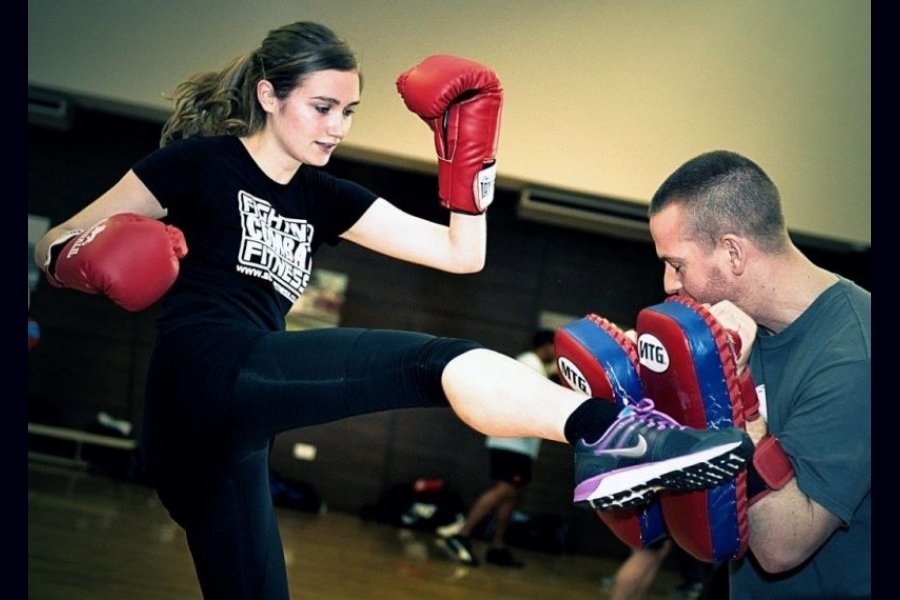 Personal Training
If you want individualised personal 1-to-1 coaching in Combat Fitness we can arrange this, there is no better way than to take a personal training session. If it is specialised technique training or a tailored fighter development program you are looking for, then our experienced coaches will be happy to help you. We can also help you achieve faster results or help you aim for a specific competition or sports event.
We have trained all types of people with different abilities, our personal training sessions start at £75.00 per hour or £700 for ten sessions.